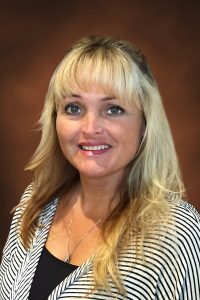 A member of the RUSH Construction, Inc. staff since December 2014, Laurie Jones works with RUSH project managers as a Project Coordinator. Solis provides administrative support on current projects, performing tasks such as uploading and managing documents, pulling project permits, assuring that subcontractor billing and payments are fulfilled on time, and verifying that all subcontractor documentation is in order. She also assists on bid day, helping the Business Development Coordinator with bookkeeping and invoicing.
In her time with the company so far, some of her favorite projects include the ATX Project, Steward Melbourne Regional Medical Center OR Expansion, Viera Charter School, and Cruise Terminal #3 Marine Works (RUSH Marine). "I was able to help the superintendent punch out the ATX Project and got to see the building process first-hand from start to finish," says Laurie. "Cruise Terminal 3 is another favorite. I was really involved in the project, and enjoyed going out to the project site to see the team hard at work."
Originally from Charleston, South Carolina, Laurie has lived in Florida for over two decades. She has three grown children and four granddaughters. In her free time, Laurie enjoys biking, walking, running, and just being outdoors with her grandkids.
Laurie's Favorite Quote: "The best and most beautiful things in the world cannot be seen or even touched – they must be felt with the heart." – Helen Keller