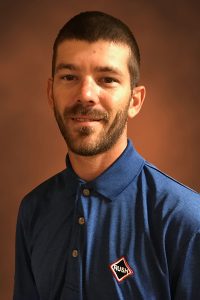 As a project superintendent at RUSH Construction, Inc. since May 2017, Steven Keefer now serves as an Estimator and is responsible for supervising and coordinating projects to provide a quality product in a timely manner while adhering to safety regulations.
Steven became familiar with members of the RUSH staff while performing work as a subcontractor, and, attracted to the company's overall atmosphere and attitude, made the decision to join the RUSH team when a position became available. "RUSH may produce big, however, the leadership are on a first name basis with everyone, creating an authentic family-like atmosphere," says Keefer. "I haven't looked back since."
With a background primarily in plumbing and pipe fitting, Keefer's main focus in his work centers on meeting and exceeding customer expectations, a characteristic that is highly valued at RUSH.
Born and raised in Baltimore, Maryland, Steven moved to Titusville when he was twelve years old. He is the proud father of two daughters, Emma and Claire. Steven enjoys melting and casting metal as a hobby.
Fun Fact About Steven: "I am deathly afraid of heights. In an attempt to overcome that fear, I joined the military and signed up for aviation."