Titusville, Florida, March 17, 2022— RUSH Construction, Inc. today announced it has earned a National Safety Excellence Award from Associated Builders and Contractors, which was presented at the 32nd annual Excellence in Construction® Awards during ABC Convention 2022 in San Antonio on March 16.
"RUSH Construction, Inc. is honored to be one out of only seven General Contractors to receive this 2021 National Safety Excellence Award. We understand that there were 1,900 eligible construction firms with a safety program that allowed them to pursue this award, so to be recognized speaks volumes to the investment that we make in our safety program," said RUSH President & CEO William Chivers. "I want to commend the leadership of Shawn Lucas, our Corporate Director of Safety and Quality, and our incredible field staff who put safety first each and every day."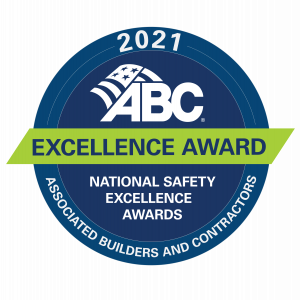 The 2021 National Safety Excellence Award winners were selected from ABC member firms that achieved Diamond, Platinum and Gold status in ABC's STEP Safety Management System in 2021. During the selection process, contractors were judged on self-evaluation scores, lost workday case rates, total recordable incident rates, leading indicator use, process and program innovations and video interviews conducted by members of ABC's National Health and Safety Committee.
"Creating a work culture that focuses on safety and total human health is a top priority of ABC," said 2022 National Chair of the ABC Board of Directors Stephanie Schmidt, president, Poole Anderson Construction, State College, Pennsylvania. "RUSH Construction, Inc. not only represent(s) some of ABC's top performers, but also demonstrate(s) the difference it makes when implementing the foundations of and daily conditions for world-class safety."
The National Safety Excellence Awards are presented in three major North American Industry Classification System code categories: NAICS 236—Construction of Buildings; NAICS 237—Heavy and Civil Engineering Construction; and NAICS 238—Specialty Trade Contractors.
STEP, the standard for developing world-class safety management systems in construction, is designed to help both large and small contractors evaluate every aspect of their corporate safety and health programs and identify opportunities for improvement.
CNA is the presenting sponsor of the National Safety Excellence Awards.
See a complete list of winners on ABC's website.