Justin L. Grantham has received a "Recognition Award" from NASA for going above and beyond normal safety procedures.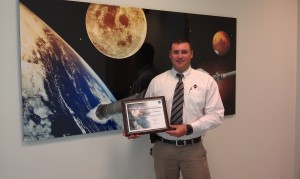 General contractor, RUSH Construction, Inc.'s, Superintendent Justin L. Grantham has been awarded a "Recognition Award" by NASA's Executive Safety Forum for going above and beyond normal safety procedures while working on a RUSH-LINK (RUSH's Service-Disabled, Veteran Owned, Small Business Joint Venture) project. Grantham identified and reported a hazardous gas leak in a timely manner on two separate occasions while working on a project out at the Kennedy Space Center (KSC). Of the two gas leaks, the second, caused by a faulty valve, created the highest level of risk. Justin is one of the few general contractor employees to be recognized in this way by NASA.
Superintendent Grantham reports hearing an alarm sounding across the street at Florida Gas Station #6. When he got within 50 feet of the station, he could smell the rotten egg odor that signifies a gas leak. He immediately called for an evacuation of the area and dialed the KSC 911 hotline to report the situation. "After speaking with the 911 operator, URS safety Kevin Devlin and URS inspector John Henderson were notified of the gas leak location," says Grantham. "While our onsite personnel reported to the nearest Marshaling Area #5 and waited for the OK to return to site, Florida Gas had the leak fixed within 2 hours."
RUSH Construction, Inc. puts a great emphasis on the importance of safety, with all of its Field Supervision holding current OSHA 30 Hour Certificates, numerous Construction Health and Safety Certifications, as well as Competent Person Training Cards. RUSH and its joint ventures have received many safety awards in the past, and maintain an aggressive safety program.