Approximately 300 guests from all over Florida turned up to help RUSH celebrate three decades of building with integrity.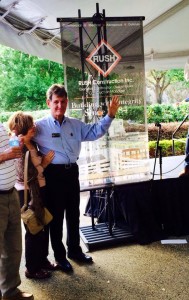 RUSH Construction, Inc. recently celebrated its 30-year milestone with a spectacularly successful 30th Anniversary Celebration. Members of RUSH commented that they were "very touched by the outpouring of support from all over Florida." This lively Cuban-themed event included Dominican cigars and authentic Cuban cuisine, as well as a private debut showing of RUSH's corporate video by Fiction TV.
With approximately 300 attendees, guests included a broad spectrum of people, including clients, contractors, associates, elected officials, friends & family. Some noteworthy officials in attendance included Titusville Mayor Jim Tully, Commissioner Robin Fisher, Titusville City Manager Mark K. Ryan, County Judge Michelle Baker, Port Canaveral Commissioner Frank Sullivan, and a representative from the office of Congressman Bill Posey, Ms. Cheryl Moore.
"We were honored and humbled by the number of people who took time out of their work week to help us celebrate this special event. There were people who drove from places like Jacksonville, Tampa, and South Florida to celebrate with us," said William Chivers, President of RUSH. "On behalf of RUSH Construction, we would like to thank everybody who helped us celebrate our 30 year history."
RUSH Construction, Inc. would like to extend a special thank you to Associated Builders and Contractors Florida – East Coast Chapter for all of their help co-hosting this event.