Titusville, FL, June 13, 2022 – RUSH Facilities, LLC, is now one of just a few companies in the state of Florida with a UL Certified Lightning Protection Professional on staff, allowing the company to expand its services to include lightning protection system installation, inspection, and compliance. Josh Pagan, a certified electrical contractor who leads the RUSH Facilities Electrical Division, received his UL certification on May 7, 2022.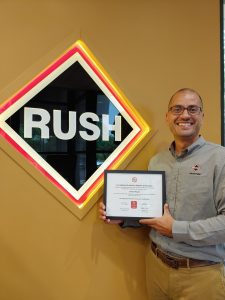 Lightning protection systems are used to protect structures of all kinds from damage due to lightning strikes. After installation, regular inspection and maintenance of these systems ensures proper functionality and compliance. An UL Lightning Protection Professional Certification proves that an individual has been independently certified by UL to possess the critical knowledge and skills required to work on projects in the lightning protection systems industry. The goal of this certification is to improve the safety and performance of lightning protection systems through a more qualified workforce.
"As Josh worked with our different clients and the Construction side of RUSH, he began to see a need for lightning protection installers and maintainers in our area," said Bob Dillow, President of RUSH Facilities, LLC. "Brevard County and Central Florida annually experience one of the highest numbers of lightning strikes per square mile in the world. We frequently see improperly installed and maintained lightning protection systems on our clients' buildings, putting their buildings and equipment at risk. Josh obtaining his UL Lightning Protection Professional Certification enables RUSH Facilities to provide lightning protection services to our clients in a timely and cost-effective manner, helping them reduce the risk to their buildings and equipment." said Bob Dillow, President of RUSH Facilities, LLC.
Learn more about UL Lightning Protection Professional Certification here.
About RUSH Facilities, LLC:
RUSH Facilities, LLC is a State of Florida licensed, bonded, and insured general construction contractor, HVAC contractor, and electrical contractor. RUSH Facilities addresses all facility needs, providing services that require skilled mechanics, UL certified lighting protection installers, electricians, HVAC technicians, constructors, custodians, cleanroom cleaning and maintenance technicians, grounds and landscape technicians, project managers and Owner's representation. RUSH Facilities serves a broad spectrum of clients, including aerospace, defense contractors, government entities, commercial businesses, manufacturing, charter schools, medical offices, and other facilities. The team has provided services at the Kennedy Space Center Space Florida Launch and Landing Facility (the old NASA Shuttle Landing Facility), Delaware North Facilities, Boeing Facilities, Space Perspective Facilities, GenH2 Facilities, Viera Charter School, USSSA Brevard County site, Brevard County sites, the City of Titusville and many more. RUSH Facilities is part of the RUSH Family of Companies, that include RUSH Construction, Inc. and RUSH Marine, LLC. This allows RUSH to seamlessly meet our clients' needs from design to construction and then the day-to-day maintenance of their buildings, facilities and equipment.
For more information about RUSH Facilities, visit: www.rushfacilities.com or contact Bob Dillow at (321) 267-8108 ext. 129.