The RUSH Family of Companies joined the Occupational Safety and Health Administration (OSHA) in the National Safety Stand-Down (officially May 2-6, 2022) to prevent falls in construction by hosting a Safety Luncheon with RUSH Marine on Friday, May 6, 2022 at the Port Canaveral North Cargo Berth 3 jobsite. During the luncheon, RUSH leadership, including Senior Safety Specialist Richard Goodman, spoke with staff about the importance of safety, focusing on "Fall Hazards" and reinforcing the importance of "Fall Prevention".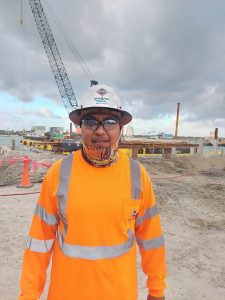 Fatalities caused by falls from elevation continue to be a leading cause of death for construction employees, accounting for 351 of the 1,008 construction fatalities recorded in 2020 (BLS data). Those deaths were preventable. The National Safety Stand-Down raises fall hazard awareness across the country in an effort to stop fall fatalities and injuries.
During this week's focus on fall prevention, Moises Andres was recognized for his demonstrated commitment to safety and fall prevention on the job site. Moises was recently "Caught in the Act" noticing that an access ladder leading to a lower work platform was not secured. He took the initiative to properly secure the ladder so that he and his coworkers could safely access the lower platform.
Safety is a Core Value of the RUSH Family of Companies. RUSH's overall safety program is comprehensive and includes a corporate commitment to safety, written plan and procedures, performance incentives, training, as well as membership and participation in safety-related organizations. Further evidence of our commitment to safety is the fact that RUSH employs a full-time safety and quality control director. We understand that an aggressive safety program is an integral element in controlling the schedule and cost of a project.
Learn more about RUSH Construction's Commitment to Safety here.